Introducing OatSens® SugarFree
The Cutting-Edge Solution for Precise Sugar Measurement in Oat Drinks.
DirectSens is thrilled to share its latest innovation, OatSens® SugarFree, a state-of-the-art solution designed to meet the specific needs of sugar-free oat drink producers. With its exceptional glucose and maltose measurement capabilities, OatSens® SugarFree empowers oat drink manufacturers to achieve unparalleled control over the sweetness profile, ensuring the perfect balance of flavors in every sip.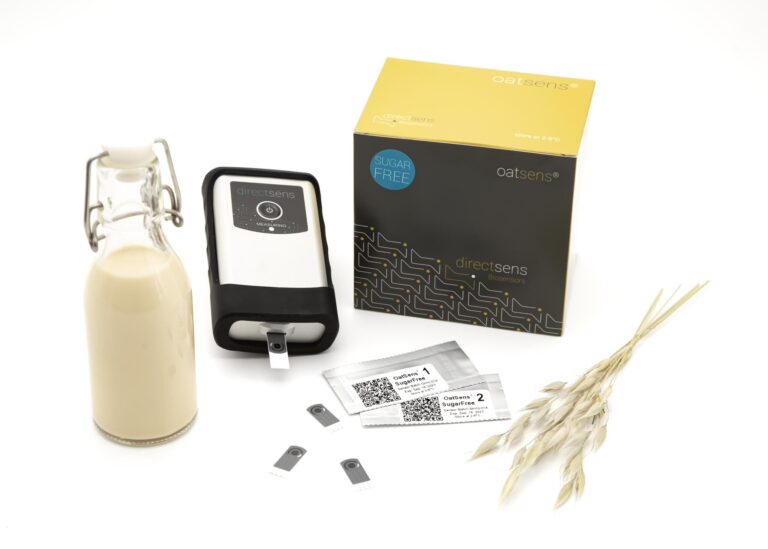 Developed to cater to the growing demand for sugar-free and low-sugar oat drinks, OatSens® SugarFree boasts an measuring range of 0.1% to 1.0% for both glucose and maltose. This precise measurement capability enables oat drink producers to fine-tune the sugar content to deliver a delightful taste experience that meets the preferences of health-conscious consumers. 
The advanced technology behind OatSens® SugarFree enables producers to accurately monitor and adjust the levels of glucose and maltose in low-sugar oat drinks. Customers gain access to a comprehensive solution that includes a small and robust reader, factory-calibrated single-use biosensors, a complete test kit, and intuitive software. The user-friendly interface and straightforward workflow make sugar measurement a breeze, allowing producers to streamline their production processes and maintain full control over product quality. 
"We're excited to launch OatSens® SugarFree in the oat drink production industry," said Elisabeth Halbmayr-Jech, Product Manager at DirectSens. "This innovative solution enables oat drink manufacturers to precisely measure and optimize glucose and maltose levels, ensuring high-quality sugar-free oat drinks. Early users have praised its convenience and user-friendly design." 
DirectSens, an Austrian biotechnology company with a proven track record in the industry, continues to drive innovation in the Biotechnology sector. With OatSens SugarFree, they further strengthen their position as a leading provider of advanced biosensor technologies, offering solutions that enable producers to meet evolving consumer demands and stay ahead in a competitive market.