Celebrating 10 Years of DirectSens
A Decade of Innovation
In 2023, the Austrian biotechnology company DirectSens celebrates its 10th anniversary as a key player in the biosensor industry. Founded in 2013 as a Spin-Off of the BOKU University, the Vienna-based company has quickly emerged as a national and international leader in developing and manufacturing next generation biosensors. With a robust pipeline of products and a strong emphasis on innovation, DirectSens is poised to make a significant impact in industries ranging from healthcare to food production.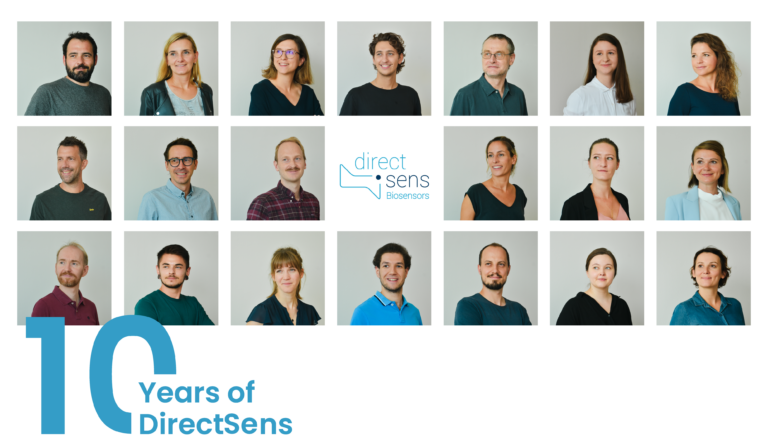 DirectSens operates an ISO 9001-certified production facility in Vienna and has a talented team of more than 20 employees working in research and production. A broad technology platform protected by eight patent families forms the basis for the company´s innovative biosensor products. Combining in-house manufacturing, application know-how and direct technical support, DirectSens offers significant added value that is highly appreciated by loyal customers. 
DirectSens operates in various divisions that focus on strategic innovation and include quality management, electrochemistry, enzyme engineering and manufacturing. This comprehensive approach allows the company to excel in all stages of biosensor development – from research to manufacturing to customer support. 
Since the company´s inception, DirectSens has achieved notable milestones. In 2013, the company acquired its first paying customer and received seed funding from AWS (Austria Wirtschaftsservice). Subsequently, DirectSens received Angel Investment and support from the FFG (the Austrian research Promotion Agency) in 2014. With the launch of their flagship product LactoSens® in 2016 the company was able to further consolidate and expanded its position in the market. Meanwhile, in 2023, the LactoSens® biosensor assay kit for on-site lactose determination, has established itself as the industry-leading lactose detection method. 
Based on this success story and robust and continuous growth, the company expanded its production capacities and moved from the University to the Startup hub "BOKU Base" with support of the national funding partners FFG and WAW (Vienna Funding Agency). As of 2020, DirectSens resides in its own facility at the VIBT technology park and is currently looking for further expansion opportunities. 
Innovative Products and Comprehensive Solutions
DirectSens continues its innovative work by researching and developing a wide range of products to meet specific markets and customer needs. One of the most advanced products in this regard is a biosensor technology for continuous glucose monitoring systems (CGMS). Based on this technology and in collaboration with international partners, a medical device that supports the diabetic population with real time glucose values, is currently undergoing initial in human trials with very promising results 
Addressing the rising market need for trustworthy and accurate measurement of yet another metabolite, the lactate detection enzyme technology, LactaZymes®, has been developed. This expands the technology stack available to our partners and enables them to extend the performance of their products.   
The comprehensive commitment of DirectSens to innovation and partnership with its customers is also reflected in other projects, such as the development of FermSens. This biosensor assay kit for on-site glucose and lactate determination combines the DirectSens technologies and experience in a highly customized version as required in biopharma manufacturing processes. 
Addressing a similar need for customization in a different context, DirectSens has introduced OatSens®, a biosensor assay kit for on-site sugar (glucose and maltose) determination that targets oat beverage and cereal-based beverage manufacturers. 
The upcoming addition to the DirectSens product line is XpressGT®, a clinical analyzer reagent kit designed to streamline the diagnosis of gestational diabetes (GDM). It aspires to offer a much-anticipated alternative to the oral glucose tolerance test (OGTT). 
By focusing on innovation and market and customer needs, offering a broad range of products, and pursuing meaningful strategic collaborations, DirectSens is helping to transform healthcare diagnostics, food manufacturing, and a growing number of other sectors that require up-to-date biosensor technology.